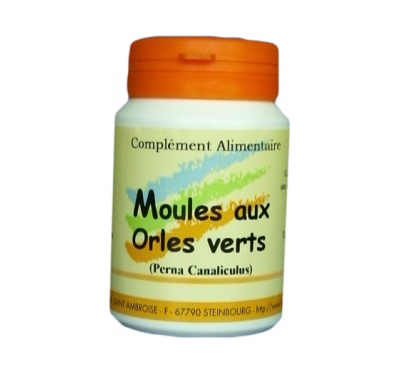 View full size
GREEN LIPPED MUSSEL
04PERNAV
Ingredients per capsules : Perna Canaliculus 250 mg, millet 99,7 mg, vitamin B6 0,3 mg. Additive: gelatine (layer).
Vitamin B6 contributes: - to the normal synthesis of cystein - to the normal functioning of the nervous system - to a normal energy metabolism - to the normal functioning of the immune system. Vitamin B6 helps to reduce fatigue.
Conditioning: 100 capsules
Posology: 3-6 capsules per day
Vitamin B6 1,8 mg like  77,7% of RDA*, rich on Vitamin B6
*RDA (Recommended Daily Allowance), Directive 2008/100/CE
Food supplements should not be a substitute for a varied diet. Do not exceed recommended daily dose.
Keep out of reach of children. This product contains crustacean and products based on crustacean.
Unit weight: 118g