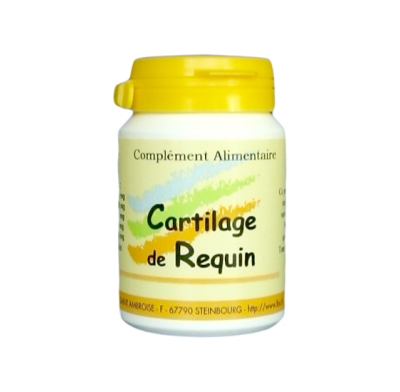 View full size
SHARK CARTILAGE
04CARTRE
Ingredient per capsule: Potatoe starch 219,75mg, Shark cartilage 200 mg, Glucosamin 80mg, Vitamin B6 0,25 mg. Additive: bovine gelatine (layer).
Glucosamin helps maintain healthy and flexible joints. It contributes to preserve the structure and the elasticity grade of the cartilage.
Vitamin B6 contributes to a normal energy metabolism, to help for a normal nervous and immun system.
Conditioning: 90 capsules
Posology: 4-6 capsules per day
Piridoxine (Vitamin B6) 1,5mg like 107,14% of RDA*, rich on vitamin B6.
*Recommended Daily Allowance, Directive 2008/100/CE
Food supplements should not be a substitute for a varied diet. Do not exceed recommended daily dose.
Keep out of reach of children. This product contains fish and products based on fish