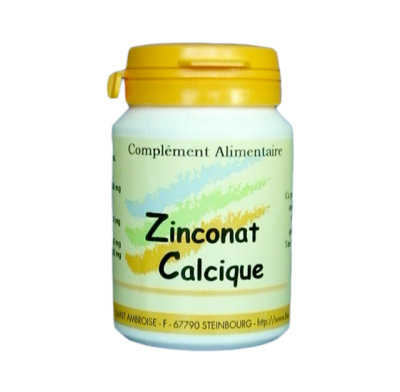 View full size
ZINCONAT CALCIQUE
04ZINCAL
Ingredients per capsule: Tricalcium Phosphate 332,93 mg, Zinc Gluconate 17 mg, Vitamin B8 0,07 mg. Additive: gelatine (layer).
Calcium is necessary to maintain good bones and teeth. He contributes to a normal blood coagulation, to a normal function of muscle.
Zinc contributes: -to a normal acid-base and carbohydrate metabolism - maintenance of a normal frame, vision and skin.
Phosphorus contributes to the maintenance of a normal frame and dentition.
Vitamin B8 (biotin) contributes to normal hair and skin.
Conditioning: 100 capsules
Posology: 4-6 capsules per day
Zinc 14,79 mg like 147,9% of RDA*, rich on zinc.
Calcium 751,09 mg like 93,88% of RDA*, rich on calcium.
Phosphor 399,51mg like 57,07% of RDA*, rich on phosphor.
Vitamin B8 420 mcg like 840% of RDA*, rich on vitamin B8.
*RDA (Recommended Daily Allowance), Directive 2008/100/CE
Food supplements should not be a substitute for a varied diet.
Do not exceed recommended daily dose.
Keep out of reach of children.
Unit weight: 176g