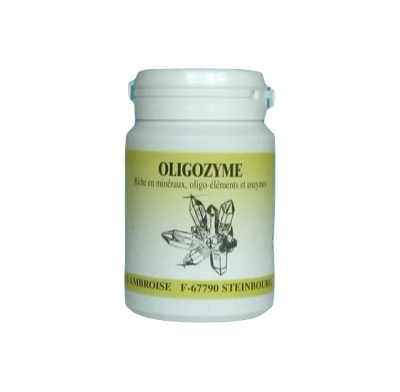 View full size
OLIGOZYMES
04OLIGOZ
Ingredients per capsule: millet 102,70 mg, greensand 126 mg, calcium 65 mg, bamboo 27,20 mg, vitamin E 1,36 mg, vegetal germ 22,28 mg, gluconat of iron 4,7 mg, of zink 1,74 mg, of copper 1,28 mg, of magnesium 2,74 mg, cellulose
Vitamin E contributes to protect the cells again oxydatif stress.
Calcium contributes to a normal blood clotting, to a normal muscular function.
Copper contributes to a normal functioning of nervous system, of a normal pigmentation of skin and hair.
Iron contributes to a normal cognitive function, ro reduce tiredness, to the normal transport of oxygen in organism.
Bamboo contributes to cartilage and bones constitution thanks to its silica content, helps to support bone and joints health, for articulation health.
Barley is a natural source from vitamins, enzymes and mineral supplementation.
Red clover is beneficial for firmness of bones, normalizes blood pressure.
Conditioning: 100 capsules
Posologie: 6 capsules per day
Calcium 146,64 mg like 18,33% of RDA*, source of calcium.
Vitamine E 8,16mg like 68% of RDA*, rich on vitamin E.
Zink 1,5 mg like  15% of RDA*, source of zink.
Copper 1,07 mg like 107% of RDA*, rich on copper.
Magnesium 0,82 mg like 0,21% of RDA*.
Iron 3,38 mg like 24,14% of RDA*, source of iron.
Phosphor 78 mg like 11,14% of RDA*.
*RDA Recommended Daily Allowance, Directive 2008/100/CE
Food supplements should not be a substitute for a varied diet. Do not exceed recommended daily dose.
Keep out of reach of children. This product contains cereals containing gluten and products from cereals.
Unit weight: 140g