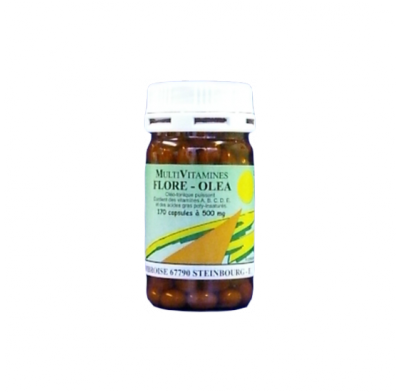 View full size
FLORE OLEA F.L.
01FLOO08
Ingredients per capsule: wheat germ oil 87,64mg, Acerola 50mg, pumpkin seed oil 46,46 mg, pollen oil 43,83mg, yeast 30 mg, soja lecithin 22,86mg, fish oil 10,76mg, Vitamin E 5,50mg, Vitamin A 0,39mg, Vitamin D3 0,06 mg. Additives: gelatine (layer), soja oil (emulsifier), glycerol (humectant).

Vitamin A contributes to a normal iron metabolism and maintain a normal skin.
Vitamin C contributes to normal collagen formation and the normal fonction of bones, of teeth, of cartilage, of the nervous system and of the immune system.
Vitamin D contributes to maintain a normaly muscular function and absorption and normal using from calcium and phosphor.
Vitamin E contributes to protect the cells against oxydatif stress.
Pumpkin seeds contributes to maintain healthy prostate function.
Bee Pollen contains a lot of vitality substances. Helps in case of tiredness, helps to support body's vitality and resistance.
Wheat contains vitamins and minerals supplementation from natural source.
Conditioning: 170 capsules
Posology: 4 capsules per day
Vitamin E 13,4 mg like 111,66% of RDA*.
Vitamin A 800 mcg like 100% of RDAA.
Vitamin D 5,2 mcg like 104% of RDA*.
Vitamin C 50 mg like 62,5% og RDA*.
*RDA Recommended Daily Allowance, Directive 2008/100/CE
Food supplements should not be a substitute for a varied diet. Do not exceed recommended daily dose.
Keep out of reach of children. This product contains: cereals containing gluten and products from cereals, soja and products based on soja, fish and products based on fish.