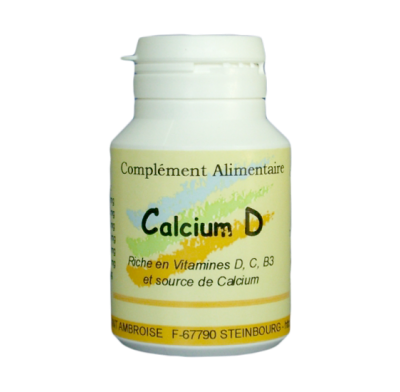 View full size
CALCIUM D
04CALC02
Ingredients per capsule
: Calcium carbonat 262 mg, Ascorbat calcium 100,5 mg, Vitamin B3 25 mg, Yeast 12,50 mg (contains Vit. D 2). Additives: vegetable capsule (layer), cellulose (filling agent).
Calcium is necessary to maintain good bones and teeth. It contributes to a normal blood coagulation, to a normal function of muscle.
Vitamin C contributes to normal collagen formation and the normal fonction of bones, of teeth, of cartilage, of the nervous system and of the immune system.
Vitamin D contributes to a normal plasma level of calcium and to a good function of immune system.
Vitamin B3 contributes to a normal energy metabolism, of a good au functioning of nervous system, to reduce tiredness.
Conditioning: 60 capsulesPosology: 2 capsules per day Vitamin D 5 mcg like 100% of RDA*, rich on vitamin D.
Vitamin B3 50 mg like 312,5% of RDA*, rich on vitamin B3.
Vitamin C 168,8 mg like 211% of RDA*, rich on vitamin C.
Calcium 228,7 mg like 28,57% of RDA*, source of calcium.
*RDA Recommended Daily Allowance, Directive 2008/100/CE
Food supplements should not be a substitute for a varied diet. Do not exceed recommended daily dose.
Keep out of reach of children.
Unit weight: 76g