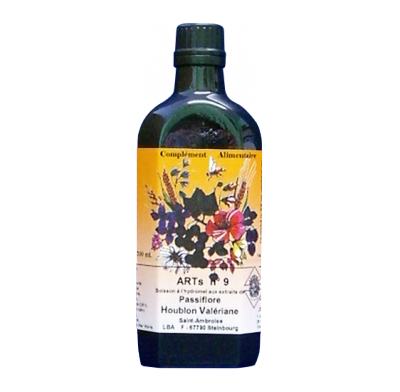 View full size
ARTS N°9
03AR0901
Ingredients per daily dose: Mead15ml,  passion flower 180mg, hop 90mg, valerian 90mg, melissa 36mg, blessed thistle 36mg, dead sea salt 30mg, hawthorne 18mg.
Melissa
contributes to relaxation and sleep, also to the reduction of tension and irritability.
Passion flower
is used to help to find a better sleep.
Hawthorn
improves cardiac activity regulation.
Valerian contributes to mental and physical comfort, and promotes digestive comfort.
Conditioning: 200ml
Posology: 3 Teaspoon per day with water
Food supplements should not be a substitute for a varied diet. Do not exceed recommended daily dose. Keep out of reach of children. This product contains sulphites.
Unit weight: 537g