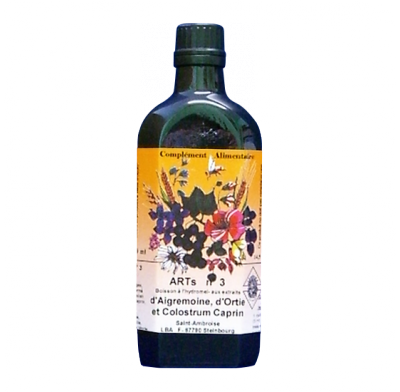 View full size
ARTS N°3 - Immune system
03AR0301
Ingredients per daily dose: Mead 15ml, Pumpkinseed 105mg, Spelt 105mg, deproteinised pollen 89,25mg, goat colostrum 52,50mg, roiibos 52,50mg, Agrimony 47,25mg, nettle 31,50mg, dead sea salts 30mg, blackberry 26,25mg, quail eggs 15,75mg.
Pollen and nettle
strengthens the immune system as well as the vitality (to be used in case of tiredness).
Agrimony
increases the resistance of the organism.
Nettle promotes renal elimination, combined with a regular sporting activity it allows to increase physical performance and supports muscle growth by helping to maintain the joints, tendons and muscles flexible.
Conditioning: 200ml
Posology: 3 Teaspoon per day with water
Food supplements should not be a substitute for a varied diet. Do not exceed recommended daily dose. Keep out of reach of children.This product contains:- eggs and egg-based products.- cereals containing gluten and products from cereals- milk and milk-based products- sulfites
Unit weight: 537g