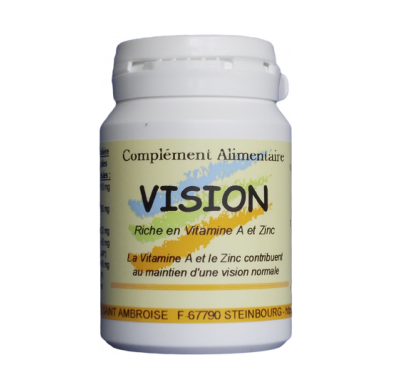 View full size
VISION
04VISION
Ingredients per capsule: 270mg Omega 3, 60mg extract of Rose of India (lutein,Tagetes erecta), 42 mg extract berries of goji (Lycium barbarum), 15mg Beta carotene, 15mg zinc gluconate. Magnesium stearat (aggregate), vegetable capsule (layer).
Vitamin A and zinc
contribute to the maintenance of normal vision.
Conditioning: 90 capsules
Posology: 3 capsules per day
Vitamin A 750µg like 93% of RDA*, rich on vitamin A.
Zinc

5,9mg like 59% AJR*, rich on zinc.



* Recommended Daily Allowance, Directive 2008/100/CE
Food supplements should not be a substitute for a varied diet.
Do not exceed recommended daily dose. Beta-carotene is not recommended for smokers.
Keep out of reach of children.