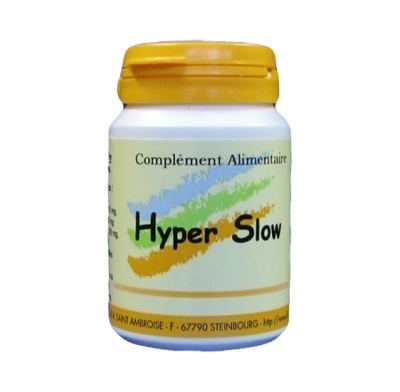 View full size
HYPER SLOW
04HYPSLO
Ingredients per capsule: Horse chestnut 175 mg, Garlic 80 mg, Magnesium gluconat 75mg, Hawthorn 50 mg, Kudzu 45 mg, Coleus 20 mg, Blueberry 20 mg, Bioflavonoides 10 mg, Chrom 12 mcg (chrom chlorure), OPC 5mg. Additives: vegetable capsule (layer), cellulose (filling agent).
Is a plant complex made of plant extrat an nutrients
Chrom contributes to maintain a normal blood sugar level.
Isoflavones contained in kudzu, helps to reduce untoward effects of climacterium.
Horse chesnut is an antioxidant, can protect from free radicals. It Increases the physiological resistance of the organism. It helps to protect the stomach from irritating substances. Traditionally used for the good circulation of blood in microvessels, to decrease the sensations of heavy leggs.
Hawthorn regulates the heart activity. With its relaxing effect, hawthorn is used to help to find a better sleep, to decrease tenseness, restleness and irritability.
Coleus contributes to body weight management.
Garlic contains antioxidants, maintenance of normal cholesterol and homocystein levels.
Wine grape seeds supports venous circulation, contributes to a healthy blood pressure.
Conditioning: 90 capsules
Posology: 2 capsules per day
Magnesium 8,25mg like 2,2% RDA*Chrom 24mcg like 60% of RDA*, rich on chrom 
*RDA Recommended Daily Allowance, Directive 2008/100/CE
Food supplements should not be a substitute for a varied diet. Do not exceed recommended daily dose.
Keep out of reach of children. Not recommended for use in women with a personal or family breast cancer history.
Unit weight: 132g