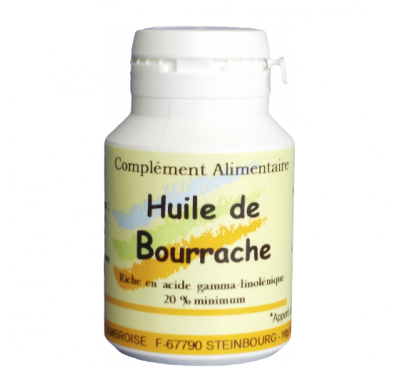 View full size
BORAGE + VIT E
01HBOU01
Ingredients for one Oil capsule: 500mg Borage seed oil (Borago officinalis), 10mg Vitamin E. Additif: gelatine, water, glycerol (layer)
Borage oil (GLA=gamma linolenic acid) contributes to maintenance of normal skin cell structure and elasticity.
Borage is traditionally used to enhance the renal elimination of water. Traditionally used to facilitate the elimination functions and the drainage of the organism. Diuretic effect, contributes to the functionary of the urinary tract.
Conditioning: 50 capsules
Posology: 3 capsules per day
Vitamin E 1000UI 30mg (20,14ET) as 167,8% RDA*
* Recommended Daily Allowance, Directive 2008/100/CE 
Food supplements should not be a substitute for a varied diet. Do not exceed recommended daily dose.
Keep out of reach of children.