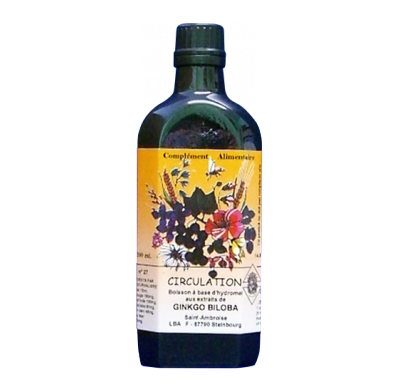 View full size
ARTS N°27
03AR2701
Ingredients per daily dose
: mead 15ml, red vine leaf 180mg, horse chesnut 135mg, ginkgo biloba 90mg, blessed thistle 45mg, Salt of Dead Sea 30mg. 
Red vine leaf
contributes to good blood circulation in the legs, in veins.
Gingko biloba
maintains a good cognitive function, promotes a good mental balance.
Blessed thistle
helps digestion, facilitates breathing. 
Conditioning: 200ml Mead with red vine leaf, conker, ginkgo biloba.
Posology: 3 teaspoon per day with water
Food supplements should not be a substitute for a varied diet. Do not exceed recommended daily dose. Keep out of reach of children. Use during pregnancy and breastfeeding is not recommended. See your doctor if taking anticoagulants or antiplatelet agents. This product contains sulphites.
Unit weight: 537g