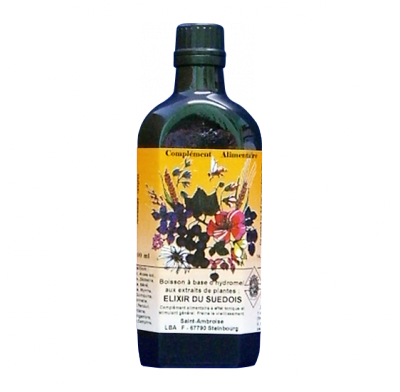 View full size
Sweden Elixir
03ELISUE
Ingredients per daily dose: meat 10ml, aloe 33,33 mg, senna 33,33mg, rhubarbe 33,33mg, zedoary 33,33mg, veronica 33,33mg, angelica 33,33mg, rowan 16,67mg, myrrh 16,68mg, Acorus 3,3mg, anise 3,3mg,  cinnamon 3,3mg, lemon 3,3mg, fennel 3,3mg, gentian 3,3mg, ginger 3,3mg, cinchona 3,3mg, liquorice 3,3mg, valerian 3,3mg, camphor 3mg, saffron 0,7mg.
The original recipe was discovered in the personal notes of the famous Swedish Doctor Samst after his death.Dr. Samst died when he fell of the back of a horse at the age of 104 years. Also, his parents and his grandparents reached patriarchal ages.
The "Swede's Elixir" is a polyvalent food supplement: Anti-ageing, Anti-fatigue, Antitoxic,Tonic, Depurative, Anti-inflammatory.
Conditioning
: 200 ml
Posology: 3 teaspoon per day with water
Food supplements should not be a substitute for a varied diet. Do not exceed recommended daily dose. Keep out of reach of children. This product contains sulphites. Do not use more than 6 weeks without medical advice. Ask your doctor in cas of pregnancy and breastfeeding.
Unit weight: 537g