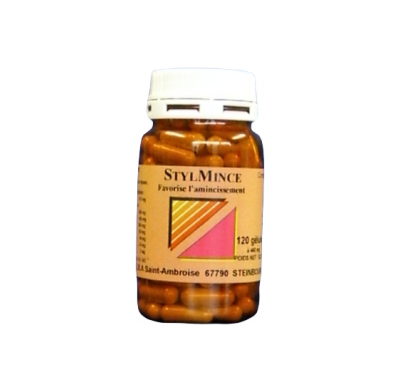 View full size
STYLMINCE
04STYLMI
Ingredients per capsule: 117,50 mg Opuntia, 100 mg CLA, 100 mg Proteines hydrolised, 15 mg Bifidus, 6 mg VIT E, 2 mg VIT. B6. Additive: gelatine (layer), magnesium stearat (aggregate).
Opuntia absorbs sfat and sugar, helps weight control.
Vitamin B6 contributes to a normal energy metabolism, to help for a normal nervous and immun system.
Conditioning: 120 capsules
Posology: 2 x 2 capsules after meal
Vitamin E 19,41mg ET like 162,41% of RDA*, rich on vitamin E.Vitamin B6  2mg like 142,85% of RDA*, rich on vitamin B6.
* Recommended Daily Allowance, Directive 2008/100/CE
Food supplements should not be a substitute for a varied diet. Do not exceed recommended daily dose.
Keep out of reach of children. This product contains milk and milk-based products.