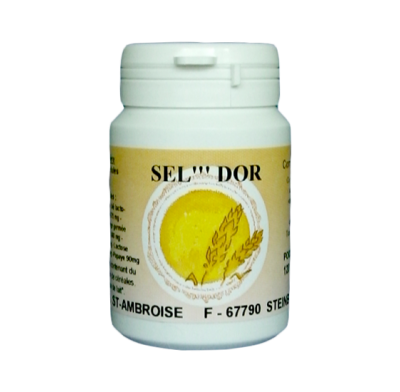 View full size
SEL D'OR
04SELDOR
Ingredients per capsule: Bran 80 mg, lacto-fermented bran 60 mg, Lentil sprouted 55 mg, Orge sprouted 55 mg, Wheat lacto-fermented 40 mg, Rye lacto-fermented 40 mg,Flaxseed 20 mg, Papaya 10 mg. Additives: vegetable capsule (layer), lactose (excipient).
Barley and green wheat are a natural source of vitamins, and minerals.
Flaxseed are traditionnally used to facilitate the digestion, contributes to maintain the weight, to control the appetit.
Conditioning: 120 capsules
Posology: 6-9 capsules per day
Food supplements should not be a substitute for a varied diet. Do not exceed recommended daily dose.
Keep out of reach of children. Not recommended for use in women with a personal or family breast cancer history.This product contains cereals containing gluten and products from cereals, milk and milk-based products.
Unit weight: 143g