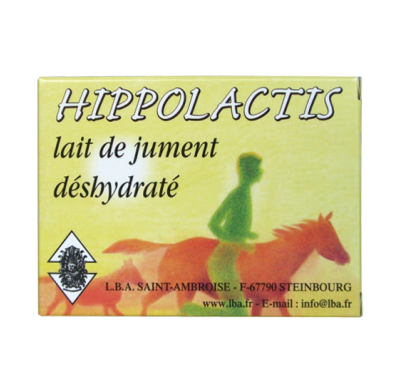 View full size
HIPPOLACTIS **
04HIPPOL
Ingredients per capsule:  potatoe flour organic 225mg, Fowl mik organic 225mg. Additives: gelatine capsule (layer).
Strenghtening force of equilibrium, of energy, of beauty and health. Fowl milk is the closest to human maternity milk. Its feeble content in fatty matter allows it to be digested easily, and its rich and harmoniously balanced composition in active essential elements - there are more than 40 of them - fights shortcomings of the organism and activates its immunological defences.
Conditioning: 60 capsules in blister
Posology: 6 capsules per day
Certified by ECOCERT SAS F32600
** contain organic ingredients
Food supplements should not be a substitute for a varied diet. Do not exceed recommended daily dose.
Keep out of reach of children. This product contains milk and milk-based products.
Unit weight: 80g