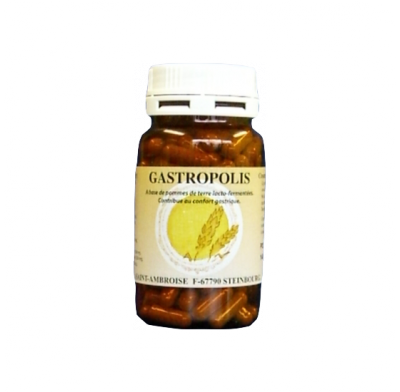 View full size
GASTROPOLIS
04GASTRO
Ingredients per capsule: millet 100mg, Potatoes lacto-fermented 83,9mg, green cabbage 73,82mg, potatoe starch 67,1mg, lemon pectin 50,34mg, wheat lacto-fermented 16,76mg, red pepper 6,7mg,  Tomatoe 6,7mg, carott 6,7mg, Parsley 6,7mg, spinach 6,7mg, nutmeg 1,12mg, cinnamon 1,12mg, clove 1,12mg, green anise 1,02mg, chlorophyll 0,17mg, fermented rice starch 0,03mg.
Cayenne Pepper helps to protect the stomach in case of intake of irritating substances.
Conditioning: 140 capsules
Posology: 6 capsules per day
Food supplements should not be a substitute for a varied diet.
Do not exceed recommended daily dose.
Keep out of reach of children.
Unit weight: 171g