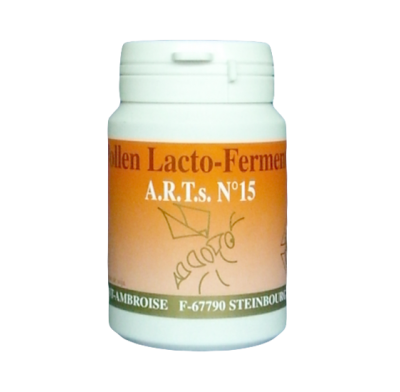 View full size
ARTS N°15
04AR1503
Ingredients per capsule: lacto-fermented pollen 330 mg, pumpkin seeds 60 mg, soya lecithin 6mg, propolis 4 mg.
This food product is made to have the consumer benefit of the qualities of pollen. ARTS 15, lacto-fermented pollen can be absorbed by the human organism, whereas pollen in form of grains cannot or only very little. In fact, the membrane, which surrounds the microscopic grain of pollen, is not permeable for the gastric juices of man. Thanks to lactic fermentation pollen is entirely absorbed.
Pollen helps for a good body resistance, stimulates the immune system, provides comfort during menopause. It is a natural source of anti oxidant, it brings a gastric comfort.
Pumpkin seeds maintain the good functioning of the prostate and urinary system.
Conditioning: 80 capsules
Posology: 3 - 6 capsules per day
Food supplements should not be a substitute for a varied diet.
Do not exceed recommended daily dose.
Keep out of reach of children.
Unit weight: 110g