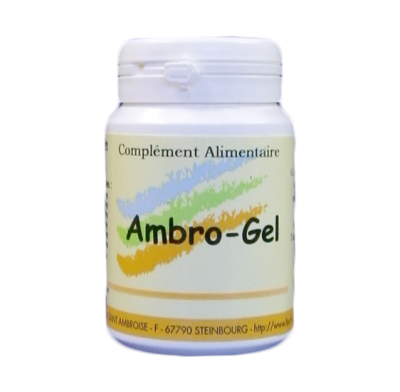 View full size
AMBRO GEL
04AMBROG
Ingredients per capsule: wheatgerm 326mg, royal jelly 166,66mg, vitamin E 2,5mg. Additives: fish gelatine (layer), bee wax (release agent) soja lecithine (emulsifier).
Vitamin E helps to protect against oxydatif stress.
Wheat oil contributes to enhance your body resistance.
Conditioning: 90 capsules
Posology: 2-3 capsules in the morning and afternoon
Vitamin E 10mg ET like 83,3% of RDA*.* Recommended Daily Allowance, Directive 2008/100/CE
Food supplements should not be a substitute for a varied diet. Do not exceed recommended daily dose.
Keep out of reach of children.
This product contains: soja and products based on soja, cereals containing gluten and products from cereals, fish and products based on fish.
Unit weight: 118g