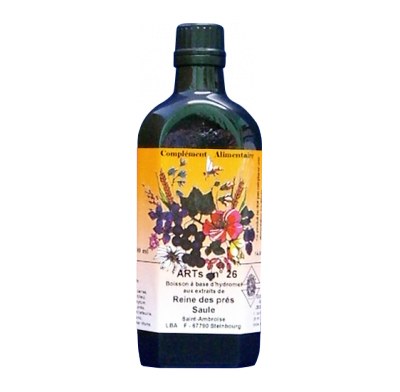 View full size
ARTS N°26
03AR2601
Ingredients per daily dose : mead 15ml, cherry 90mg, lime tree 90mg, Dewils Claw 72mg, meadows 54mg, leek 45mg, yarrow 45mg, Salt of Dead Sea 30mg, willow leaf 27mg, willow bark 27mg.
Cherry
facilitates digestion (as well as the Yarrow), and respiration (pharynx, vocal cords).
Cherry and lime tree
facilitate renal excretion, drain the body, and have a diuretic effect.
Lime tree
is a source of anti oxidant, protects against free radicals, and supports the immune system.
Dewils Claw
and meadows helps to the supports joint. 
Meadows contributes to the proper functioning of the urinary system.
Conditioning
: 200ml
Posology: 3 teaspoon per day with water
Food supplements should not be a substitute for a varied diet. Do not exceed recommended daily dose. Keep out of reach of children. Not recommended for people suffering from allergy to salicylates derivatives.This product contains sulphites.
Unit weight: 537g